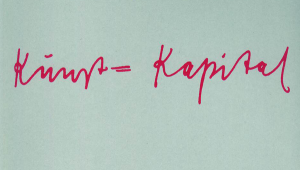 We invite you to look at an inspiring collection of materials of Joseph Beuys and the social sculpture, to watch films from the video selection or to read in the library.
Available are:
Movies: about 50 DVDS to actions, panel discussions, interviews and television shows. On-site view is possible (some documents are available in English language, too).
The library (for guestes from Germany and abroad) comprises of about 600 books in different languages. The titles of which should online shortly. You are welcome to contact us if you have any questions about available book titles. The library can be viewed on site, we do not yet have a rental system in place.
Handwritten letters, multiples, signed (large) photos and postcards
Audio Documents: more than 100 hours of audio material, also original voice of Beuys. On-site previews are possible.
Facsimile Blackboard drawings
More than a thousand documents including magazines, newspaper articles, documents about the FIU, letters and
essays, which can be used for research.
Fotographies: Focus on Beuys' activities in the seventies and eighties, further activities of the FIU (Free International University) and the AssociationSocial Sculpture to date.
Large posters (65); 14 posters are signed
Selling list (The proceed will benefit our non-profit association)