We would like to invite you to visit the space we have allocated in memory of
Joseph Beuys (1921 – 1986) – Social Sculpture/ Expanded Concept of Art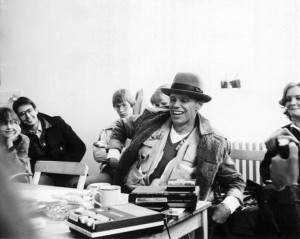 Over 16m2 we present an insight into important aspects of Beuys' work from which everybody can learn. Like no other artist, Beuys encourages an exciting perception of our own creative potential and of those around us.
Our archive, collected and curated by Rainer Rappmann, is still at a provisional stage. We are currenty looking for suitable exhibition spaces in the region. Although still in it`s beginnings, interested visitors are welcome.
The archive will be more than a "museum" and as such, a place of muse for bibliophiles. In connection with the activities of the Association for Social Sculpture, this place provides room for research and experimentation in terms of an expanded understanding of art:
"The studio is (a space) between people" (J. Beuys)
We invite you to participate in our project!