The "hare path"- an art project to participate in!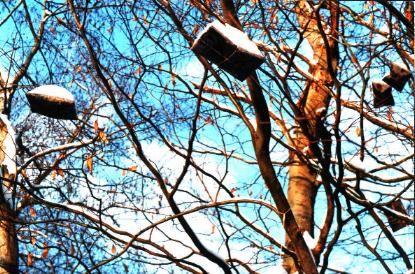 Book tree at the hare path – Installation by Rainer Rappmann
Foto-Exhibition of Annette Wölfle, spring 2013
We are excited about people who participate in this "sculpture in process". An accommodation can be provided if necessary (please inquire).
August 2013: Knitting of Kathrin Stalder and Helen Halbeisen at the book bench and a trail.
March 2013: The artist (and former companion of Joseph Beuys) U WE Claus has been dedicated to this path and will create invisible as well as visible sculptures with a group:
Weitere Hasenwegbilder (further pictures here), Manfred Mensch Meyer, congress on Easter 2013