May 23 – July 06, 2014:
"Beuys näher bringen" – Objects, Posters, Multiples – with exhibits from us our archive
Galerie Wilmsen, Maria-Thann 35, D-88145 Hergatz 
Lectures/ guidances: Johannes Stüttgen, Roland Wolf, Rainer Rappmann.
Galerie Wilmsen flyer page 1, flyer page 2 (in German)

Anton Wilmsen is not only a curator but received the order of Joseph Beuys for the production of his "honey pump" (documenta 7 in Kassel, 1977). The gallery owner and his wife have built up in the rural surroundings of the Allgäu a home gallery that gets attention beyond national borders.
________________________________________________________________________________
May – Sept. 2012:
Beuys-Exhibition:"Wer nicht denken will, fliegt raus", Kultur-Café Eulenspiegel, Wasserburg (Lake Constance, Germany). Organization: Annette Wölfle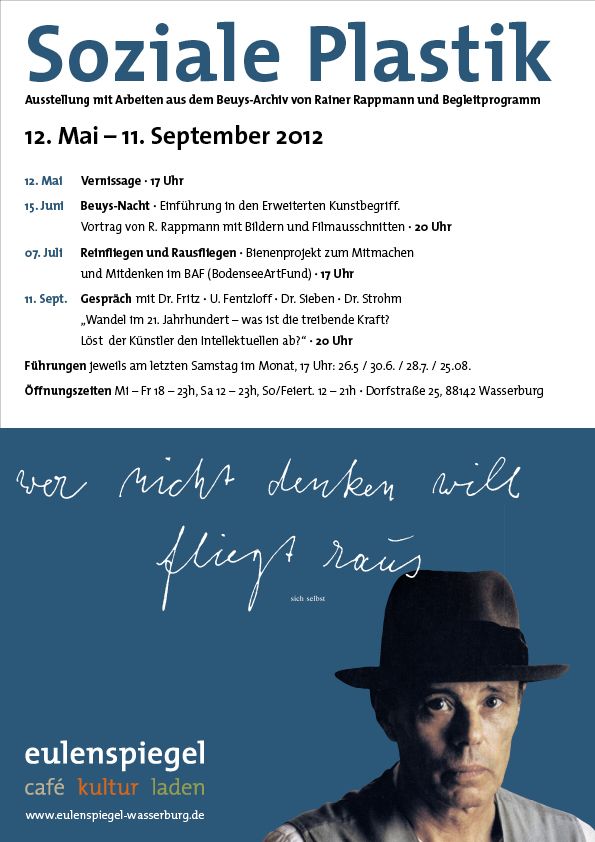 More detailed information on German page (only in German language)